NEW FEATURE!
Add an ONLINE STORE to your business listing!
Limited time special!
WHAT YOU GET:
   LIMITED TIME PRICE:   

Directory Listing + Web Page (set up included)

Online Store

Unlimited Classified Ads

Deal Checker (online flyer)

 

  3 years - $150.00

  5 years - $225.00

CALL OR EMAIL FOR DETAILS

 (403) 352-1371
Do I need an Alberta Online Business Listing to run my own store
Yes, but it's simple to create your account.
First create a basic (Visitor) account:
Click on "Create an Account" on the home page, enter your e-mail & choose a password and you are done. 
A confirmation email will be sent to you. If you don't receive it within 10 minutes (it's usually immediate) check your SPAM folder! Click on the link and it will activate your membership.
You need to confirm your registration within 48 hours of receiving your confirmation email or it will time out!
Then go to "My Account" Choose "Dashboard". (For info on creating a basic (visitor) account see FAQ's for Visitor)
From your dashboard go to "Account Info" and click the link "would you like to upgrade your account".  
This takes you to the "Get Your Business Listed" page. 
Scroll to the bottom and click "Upgrade Today". 
This will take you to the "Get Your Business Listed" page.  (Note: for security reasons there is a 30 minute time limit and then your session will time out. Remember to save before this happens)
Get Your Business Listed page - Fill in the required content: 
Business information
Contact Info
Listing length - choose 12, 24 or 36 months. 
Categories - You're allowed to pick 5 (If there is a classification you would like us to add to our site let us know! (support@ab-online.ca)
Key words - These help your customers find you more effectively through the search option
Social media - Add any links for your social media accounts *You will need to copy and paste the actual URL from your social media page* your user name eg: @myname won't work.
  
Once you hit "Save" (During our free self serve: once you hit save your account will be upgraded) it will take you to the "payment" page. **Donated 3 year listings until further notice. The amount on "payment" page will be $0.00 
Enter the "Referral Code" if you have one and/or a "Discount/Promo Code" if you have one. Choose "save" and your account is upgraded.
 Proceed to "payment".  Go through the Paypal payment options. Choose "save" and your account is upgraded.
Do I need a PayPal account for my store?
Yes, but again, it's simple to create your account.  To sign up for PayPal, simply go to https://www.paypal.com/ and create your account.
Once the account has been created, you can then add that information to your store template:
-Click on "My Account"

-Click on "Edit My Member Page Layout"
-Scroll down to "PayPal Payment Information"
-Enter your PayPal Email Address in the box provided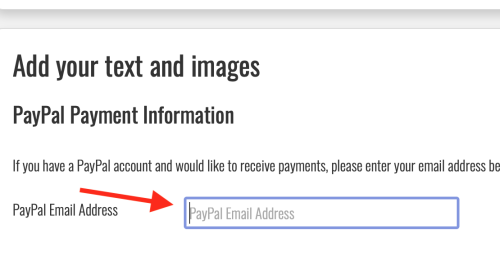 -Scroll down and click "Save"
Now you will be able to upgrade your directory listing to utilize the Store / Shopping Cart functionality.
How do I set up my Shopping Cart/online store?
Video "How To"

-From "My Account" go to your "Dashboard". Go to "Store/Shopping Cart" and click "Upgrade".

-Choose the number of months you want your shopping cart to run.  You can choose one (1) or more months  

Note - our system protects you from purchasing the shopping cart beyond the length of your business listing.  You can extend the length of your business listing at anytime from your Dashboard (In "My account" - top right).
-Click "Save",  if you have a promo code enter it and proceed to the payment.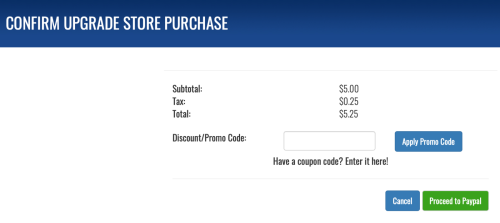 -From "My Account" go to "Visit my Store Dashboard".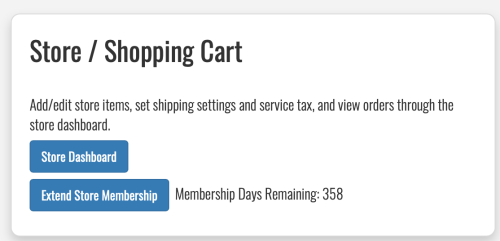 -Choose whether or not to charge GST (You must charge tax if gross revenues will be greater than $30,000 per year)
-Choose your shipping settings: per order or per item and enter the amount you charge.  You can choose 0.00 for shipping rates.  If you offer customer pick up only, make sure that your product information states this.
-Choose the tax setting for shipping if applicable.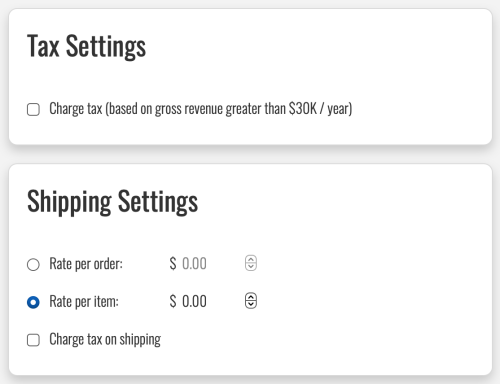 -Other settings – choose the low inventory notification option if wanted.

-You are now ready to add products to your shopping cart
How do I add products?
-In the Products section Click on "Add +".

-Enter the title of your product.  Products are listed alphabetically.  By listing the type of product first - eg. Book, Necklace, etc.  - you can organize similar products into sections for your customers to browse.
-Enter your price.  You can leave the "Sale Price" blank until needed.
-Choose either "unlimited inventory" or enter an amount (must be at least 1) in the "inventory" box.  Note - When your inventory is at 0 the product listing will not be visible to the public.  

-Add product text to describe your product features.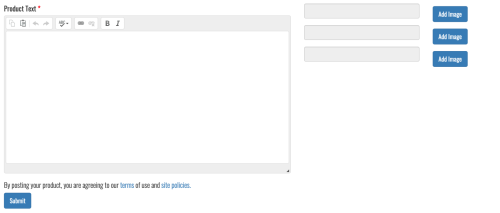 -Add your images.  From your business listing images file – click on image and select "choose".  From your computer – Choose upload to select image from a computer file.
***There is a 2MB limit per image upload.  Most images will be below this limit.

-Scroll down and click "Submit".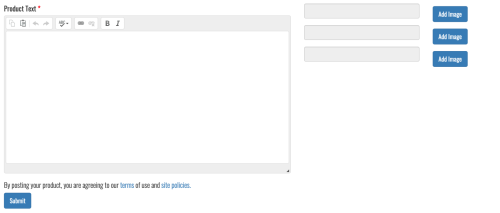 -You are now ready to add more items, edit your items, deactivate items or delete them.

How do I view my store?
To view your store / shopping cart go to "My Account" and choose "View My Member Site".  The Shopping Cart items will be at the bottom of your page.
How do I know I've been paid?
Whenever a transaction occurs and you've been notified of an order via email or via your dashboard, you should log into your PayPal account and verify the transaction amount and other relevant details.